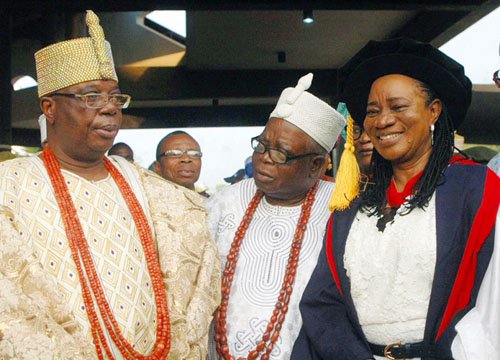 A former Deputy Governor of Ekiti State, Prof Modupe Adelabu, has identified better ways to fund and manage education.
Adelabu came up with the ideas in her inaugural lecture entitled: "As it was in the beginning, as it is now: Politics and education policies in Nigeria" at the Obafemi Awolowo University, Ile-Ife.
The professor of educational administration said new insight was needed in view of the unstable oil revenue, which according to her, could not be depended on to fund education.
She said: "Most education policies have faced challenges because some of these policies were based on financial and political postulations whose predictions were often not accurate… I also concluded in my researches that oil money is not infinite and, therefore, relying on oil alone would make education policies face challenges in Nigeria. I am happy to note that my predictions have come to reality as the scenario facing Nigeria now is the search for alternative means of funding, not only for education programmes, but for other national programmes."
To Adelabu, government at all levels should embrace Public Private Partnerships (PPP), involve communities through the school-based management committees (SBMC), support non-state providers (NSP) of education, open up more opportunities for women in leadership positions in education and accommodate globalisation in developing education policies.
"There must be synergy between the government and the community members and the non-state providers in the management, funding and provision of education. Nigeria must not ignore the political environment, the economic environment and the international environment as chief facilitators of our educational policies and programmes. This has been the thrust of my research…"
The don also called for appointment of only educationists as chairmen of state universal basic education boards (SUBEB) due to their strategic significance to education, adding that basic education effectiveness determines how well children can become useful players in the society as adults.
To bridge the gap of quality education between rural and urban communities, which she said the Universal Primary Education (UPE) introduced in Nigeria in 1976 had not achieved, Prof Adelabu said Technical and Vocational Education was the answer.
She called for integration of traditional vocations in the curriculum for rural dwellers. "The systems of education appear not to have produced the desired results in terms of individual achievements and skills development. Because of this, rural schools produced unemployable citizens, who possess no remarkable skills. The problem with rural education is not only with the content of the curriculum, but its relevance. The crucial problem, therefore, is how to combine the official curriculum with local content and link the school with the community so that they can work together to provide resources and application of the knowledge and skills students would have learnt," she said.
When Adelabu served as the chairman of the Ekiti SUBEB, she succeeded in emphasising vocational education and integrating communities in the provision and management of basic schools.